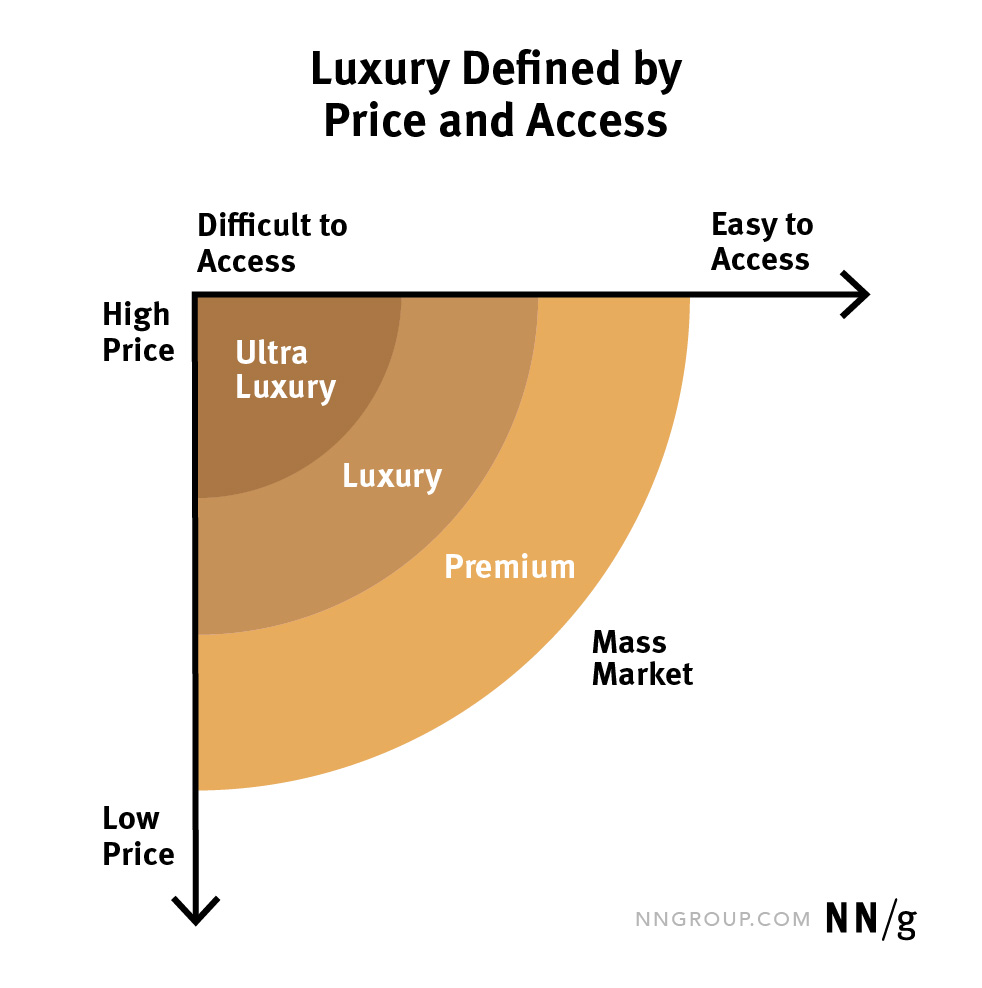 Summary: Until recently, a lack of digital prioritization and desire to control access have led to sub-par luxury ecommerce experiences. Many luxury brands are struggling to improve.
Over the past few years, luxury brands (think Gucci, Louis Vuitton, Chanel, Fendi, Hermès, etc.) have been working to improve their digital presence and ecommerce services. Two huge factors have encouraged this shift:
These two catalysts have caused a sudden surge of luxury brands' interest in digital strategy. Yet, most of those brands struggle to enhance their digital presence while still adhering to the core values of luxury.
This conflict is highly related to Don Norman's theory of emotional response levels: visceral, behavioral, and reflective. The value of luxury products is firmly rooted in reflective emotional appeal — in other words, people are attracted to luxury brands because of what their association with those brands says about who they are. Companies that focus on this reflective level (whether they're luxury or not) sometimes neglect usability, which is at the behavioral level. While luxury brands might have gotten away with poor digital experiences in the past, they're swiftly recognizing that they no longer can.
To understand the relationship between luxury-ecommerce design and usability, we conducted a series of user-research sessions, employing both usability testing and user interviews. Our findings will be presented in a series of 3 articles:
Why So Many Luxury Brands Are Terrible at Ecommerce (this article)
Luxury-Shopping User Groups and Journeys
Applying Luxury Principles to Ecommerce Design
What Is Luxury?
It's tricky to nail down a precise definition of luxury, as it's an elusive concept that can mean different things in different contexts. For the purposes of this article series, I define four categories that a brand, product, or service might fall into. These categories are largely defined by (1) how much the products or services cost and (2) how easy it is for people to access (i.e., find and be allowed to purchase) them.
Mass market: These products or services are made on a large scale and are easily accessible to many consumers, typically at reasonable or low prices.
Premium: These products or services are offered at prices higher than mass market and that not all consumers will afford. These prices are justified by a better quality or design. The manufacturers of these goods increase supply as much as necessary to meet demand.
Luxury: These are high-quality products or services, offered at prices so high that many consumers will not afford them. Those prices are partially justified by the high quality, but more so by the emotional connection that their devotees have with the brand. Luxury brands often have cult-like followings, and their products may act as status symbols. Luxury brands intentionally keep supply lower than demand, but many are easily accessed by people who can afford them.
Ultra luxury: At this top tier of luxury, prices are so high that very few people in the world can afford them. However, money alone does not guarantee access to these products or services — often, only established VIP customers or celebrities are granted the favor of buying these goods and services. The point of this level of luxury is to be extremely exclusive. 
In some cases, a brand might fit entirely within one category — for example, GAP and Target are entirely mass market, while Lululemon is entirely premium. In other cases, the same brand might have different offerings at different levels. For example, Hermès offers some accessories that cost a few hundred US dollars and are easily purchasable from their website — a luxury offering, but not an ultra-luxury one. However, they also sell the famous Birkin bag, which costs tens of thousands of dollars and is available by invitation to VIP customers only.
This series of articles focuses mostly on the digital products owned by luxury and ultra-luxury brands. This excludes a large portion of the retail landscape: resale, vintage, and third-party sellers (like Saks Fifth Avenue, Farfetch, or Net-a-Porter).
Luxury Plays by Its Own Rules
The rules for luxury brands are very different from those for other kinds of retailers — mostly because the decision-making process for luxury purchases is not practical, but intensely emotional. Luxury marketing relies heavily on establishing and protecting a brand narrative — particularly around quality and exclusivity.
Most retailers have a strong motivation to sell as many products to as many people as possible, but luxury brands must be wary of expansion. This is a matter of access as well as price — the more people that own the product, the less exclusive it is. These brands don't want to sell to everyone — they want to sell to the "right" people. They exist to define social status. As a result, the rules for luxury sometimes blatantly violate usability. They want to make customers "work" to "earn" the product.
In The Luxury Strategy, J.N. Kapferer and V. Bastien lay out what they call the "antilaws of marketing" for luxury brands. A few of these rules include:
4. "Keep nonenthusiasts out." Luxury brands must actively ensure that the people who buy the products understand and believe in the brand's values. In other words, they shouldn't let just anyone buy the product. This rule is highly related to the luxury brands' need to restrict their customer bases.
7. "Make it difficult for clients to buy." This rule couldn't be more of an antithesis to typical ecommerce UX. The underlying philosophy behind this rule is that, if luxury shoppers have to work hard to acquire a luxury item (e.g., by searching or waiting for it), then they'll value that item more.
24. "Just sell marginally on the internet." When these rules were published in 2012, the book's authors perceived ecommerce as synonymous with "instantaneity, permanent change and actualization, availability, accessibility, price reductions, automation of service, crowdsourcing […] — huge minuses for the industry. Luxury purchase needs time and effort to be deserved."
While luxury marketing has evolved since the publication of The Luxury Strategy, these excerpts provide clues as to why luxury brands have resisted and struggled with digital strategy. Within these companies, there's a strong wariness of ecommerce as inherently antiluxury.
Typical Ecommerce Strategies Don't Work for Luxury
Part of the problem seems to be that luxury brands have a hard time finding digital-strategy advisors that understand luxury. Instead, they're offered standard advice that doesn't fit the luxury model. We spoke with Katherine Sousa, senior consultant at the Luxury Institute, a research, training, and strategy consultancy for luxury brands.
"There's a serious disconnect between luxury client experience and digital. Luxury brands bring in external digital experts who have driven success in other industries, but they don't understand luxury or luxury consumers. They think they can use the same strategy and tactics, but they tend to flop."
She told us about a luxury client who reacted negatively to a discussion about surveying customers for feedback.
"Their team wanted to get consumer feedback on the customers' experience. An executive's response to that was, 'That's tacky. We don't ask for customer feedback like that in luxury.'"
This anecdote illustrates a core challenge for modern luxury brands: How to adopt a digital strategy that delivers a positive experience without undermining luxury values? Sousa underscored the importance of striking the right balance.
"Feedback is critical. There are very delicate, thoughtful ways of asking for feedback that can make sense for the brand and align with its values. When a client just dropped $20,000 on a handbag, of course you can't ask for feedback the same way Delta Airlines does. […]
Luxury brands are trying their best to become more digital, but they're having a hard time executing a digital strategy that makes sense for the needs of today's luxury consumer."
Luxury brands must adapt typical ecommerce advice to make it work for their needs. Unfortunately, many that attempt to do this simply end up with disappointing digital experiences, which fall short of the standards these brands set in their stores.
Digital Experiences Lag Far Behind In-Store Shopping
For luxury brands, the in-store experience is king. The luxury shoppers we spoke to mentioned that they valued the following aspects of in-store luxury shopping:
Attentive and gracious salespeople: "We had a really good first experience in the David Yurman store. They let us try on pretty much every single item in the store. They were super patient and not pushy at all."
VIP treatment: "They always greet me with champagne or wine. It's just that extra customer care and feel. It makes it a fun experience."
Calm and exclusive: "It feels calm and exclusive. Things are very well organized. There are fewer items, so you don't feel overwhelmed. There are usually fewer people in the stores."
Long-term personal relationships with salespeople: "I really like having a relationship with the same person who helped me make my first purchase, years ago. She knows what I've purchased in the past. It's just nice to have consistency. It makes it feel like a bit more of a unique experience."
High confidence in a big purchase: "I like being able to feel the item, see how it falls. I like buying in person because it minimizes how often I have to return something."
Luxury brands tend to strongly prioritize their in-store experiences over their digital ones. Unfortunately, that prioritization of in-person experiences has led to a deprioritization of digital ones. In our research, we observed many situations where luxury shoppers wanted to shop online but were forced to plan an in-store trip due to subpar digital experiences. This was particularly annoying to those who struggled to fit an in-person trip into their busy schedules or who didn't live in major metropolitan areas with the respective luxury store. (Luxury stores tend to be considerably rarer than other chain-type stores, so even major cities may not have locations for every single luxury brand.) Some customers may give up trying to purchase from that brand directly, and, instead, turn to luxury department stores or luxury platforms like Moda Operandi. When that happens, brands lose control of the product presentation and risk losing the sale to a competitor.
Since brands don't see many online sales, they continue to prioritize the in-store experience, which exacerbates and perpetuates the problem. This cycle is fed by the fact that established luxury brands have highly motivated audiences, who will put up with a considerable amount of inconvenience to acquire the items they love.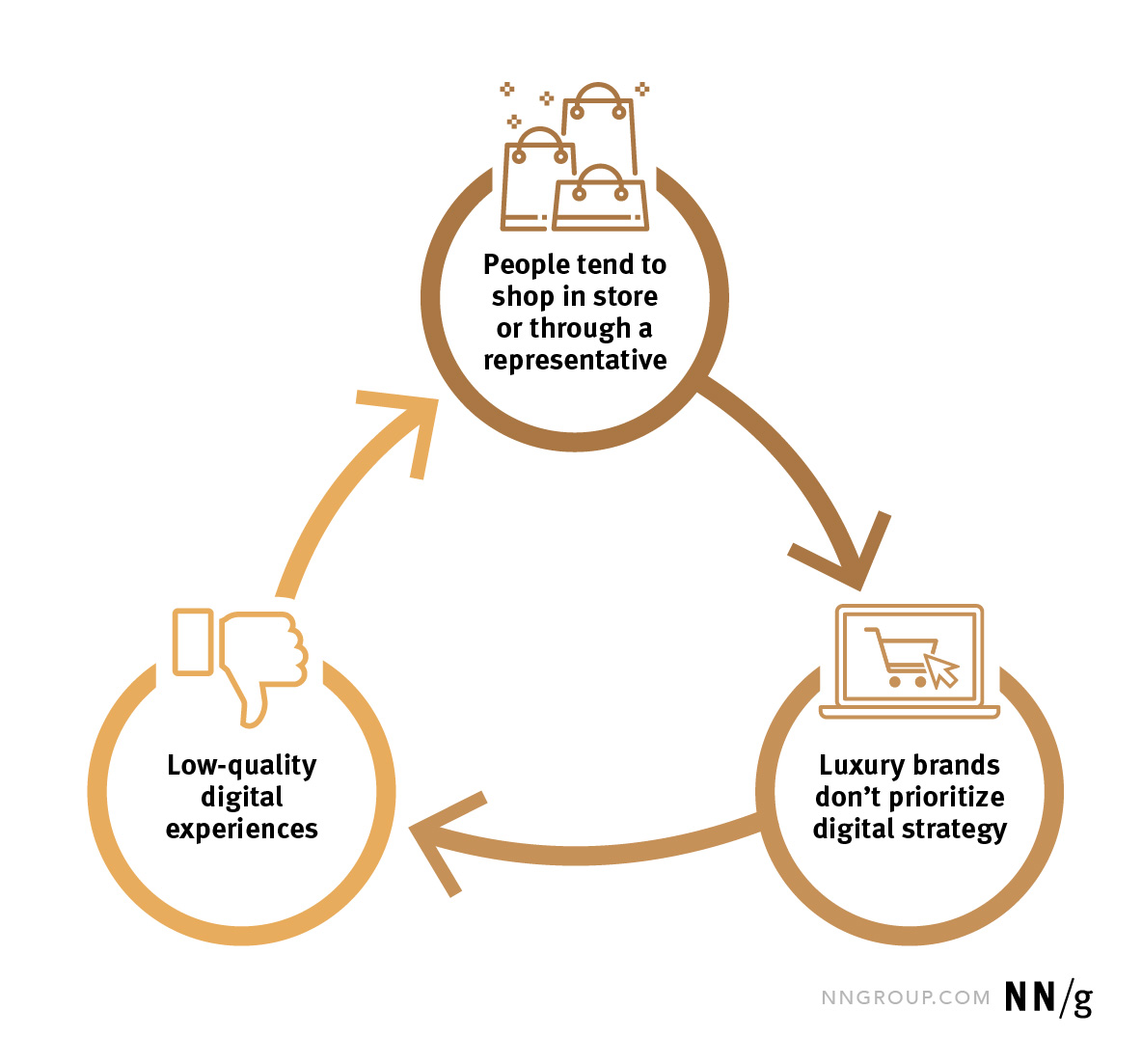 Typical Luxury-Shopping Experiences, In-Store vs. Online
| | |
| --- | --- |
| In-Store Luxury Shopping | Online Luxury Shopping |
| Highly personalized | Little to no personalization |
| Excellent product recommendations and upselling strategies | Poor or no product recommendations |
| High-end, exclusive, and enjoyable experience | Unprofessional and frustrating experience |
| All product questions answered completely | Many questions left unanswered |
| Valued and recognized repeat customers | No special repeat-customer experience |
| Consistent and thorough attention to every detail | Typos, errors, and incomplete product information |
However, the COVID-19 pandemic, along with younger luxury audiences, spurred luxury brands to realize that they need more sophisticated approaches to digital in order to keep the love of their devotees.
"I think we're in an era where consumers are no longer going to accept the fact that product description and information is minimal; new luxury consumers will demand it. COVID created a situation where luxury brands no longer had an option — they had to be digital. Many of them had to scramble to do so, but digital is now finally being prioritized and taken seriously.

Brands are allocating significant budget into improving the digital tools and strategy. But it can't be just like Amazon — a one-click and buy experience. Of course, luxury should be a completely seamless experience, but it should still build an emotional connection."

– Katherine Sousa, senior consultant at the Luxury Institute
Luxury brands will continue to prioritize their in-store experiences — and they should. But to thrive in an increasingly digital retail landscape, they need to improve their digital experiences as well, even if the majority of their sales continues to take place in person.
Next Articles in This Series
Brands (luxury or not) that operate primarily in the reflective level of emotional appeal must find ways to balance branding and usability in the purchase experience.
The next two articles in this three-part series continue to explore the current state of luxury ecommerce, while considering how brands can improve their digital experiences without sacrificing their luxury identity.
The following article analyzes four types of luxury shoppers and their journeys. The last article provides specific ways to uphold the core values of luxury in a digital environment.
For more information on ecommerce, see our 13-volume report series, Ecommerce User Experience.
Reference
Kapferer, J.N. and Bastien, V., 2012. The Luxury Strategy, Kogan Page.
Written by Kate Moran. Director with Nielsen Norman Group. She conducts research and leads training seminars to help digital product teams expand and improve their UX practice. Her research findings and recommendations are informed by her background in information theory and design, as well as her development experience.
This is our RSS Feed and this story was found here by our Project ADA. Make sure to visit the site and original post!